By Leslie Engel, MPH
COP 15—shorthand for the fifteenth meeting of the Conference of the Parties to the UN Convention on Biological Diversity—wrapped up in late December with ambitious goals to address the rapid and stunning losses to our natural world. Included within the targets for 2030 is the conservation of 30% of the world's land, oceans, and waterways; a 50% reduction in food waste and a "significant" curtailment in overconsumption and waste generation.
The critical role food systems play in meeting these targets was acknowledged during Food Day, a mini-conference within the two-week convening. The day was devoted to discussions on "transforming food systems to address biodiversity loss and achieve food security and nutrition for all by 2030." As the organizers noted, "food production is the biggest driver of environmental degradation and biodiversity loss: 70% of freshwater withdrawn, 30% of global GHG emissions, 80% of deforestation and the degradation of many other precious habitats such as wetlands and grasslands."
In the U.S., recent events have underscored how intensive agricultural practices and climate change are interacting to create a troubling feedback loop with dire environmental consequences. A severe drought, coupled with overuse, has reduced the Colorado River to a trickle in places. Americans rely heavily on the river, with one in 10 depending on it for drinking water. The rest of us are making salads with it: 70% of the Colorado River Basin is used for agriculture and over 90% of our winter vegetables are grown in Arizona.
And we are not the only species relying on it. The river that carved the Grand Canyon also sustains life for a huge variety of unique creatures and ecosystems that will disappear without it. A manager at Glen Canyon Dam described it as a "doomsday scenario" in a recent Washington Post article.
California's Central Valley, where 25% of our food is grown, is experiencing similar conditions, the January deluge notwithstanding.
Let's pause here for a deep breath.
It's heartening that the international community was able to come to a consensus on protecting the world's ecosystems. How do we translate the momentum generated in distant conference rooms to our everyday lives?
Here's one idea: this year, let's step out of our culinary comfort zones.
Seventy-five percent of the world's food comes from only 12 plant and five animal species. It's a startling statistic but think about that salad you ate for lunch. Was it so different from the one you had yesterday, last month or last spring? We can support the environment, our personal health and ultimately, a more sustainable future by diversifying our own palates.
To jumpstart, here's a veggie-centered recipe, sans lettuce, the leafy green that science journalist Tamar Haspel once described asa "vehicle to transport refrigerated water from farm to table." Instead, this colorful and low-waste winter salad features nutrient-rich, cool-weather crops that you may be able to source locally or regionally, including:
Radicchio, native to Northeast Italy and currently grown in similar climates within the U.S throughout the winter months.
Millet, a highly nutritious and drought-resistant cereal grain that you'll be hearing more about. The FAO has declared 2023 the International Year of Millets to draw attention to the potential of this small but mighty grain to feed the world in the face of climate change.
Winter squash, a great two-for-one deal since you get the flesh and the seeds as a future snack. Keep the veggie peeler in the drawer; squash skin is edible.
Hazelnuts (aka filberts), which are less intensive to grow than other nuts. If possible, use hazelnuts grown in Oregon.
Citrus, currently in season
Like most recipes, consider this a guide rather than a commandment; it's flexible and can be adapted to your household's tastes, budget and current pantry supplies. Bulgur, wheat berries, sorghum, and barley are all excellent whole grain alternatives to millet that would work beautifully here; simply follow the package directions to prepare. A cubed, roasted sweet potato would make a great stand-in for the squash. Escarole, collard greens, kale or even shredded raw Brussels sprouts can be substituted for the radicchio and the instructions remain the same as below. Pecans and walnuts are more accessible (and less expensive) swaps for the hazelnuts. Or if you're a planner, prepare the squash and roast the seeds in advance, then use them in lieu of the hazelnuts for extra crunch and cost savings. The idea here is to experiment with ingredients or combinations you're less familiar with, while staying within your budget.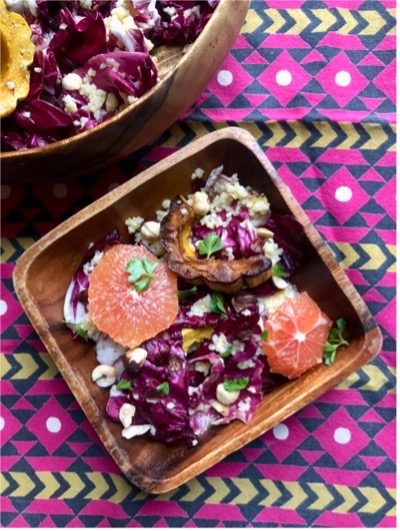 Radicchio, Millet and Roasted Winter Squash Salad with Hazelnuts and Orange Vinaigrette
Serves 4 generously/Costs approx. $3 per serving based on current food prices in New York City. 
1 medium winter squash (about 2 lbs.): delicata, kabocha, buttercup, almost any type will do, except spaghetti.
1 cup millet
½ lb. radicchio (of any variety), torn into bite-sized pieces
2 large navel oranges: use one for zesting and juicing, and the other for the salad.
1 tsp orange zest (zest the orange before squeezing it)
¼ cup freshly squeezed orange juice
½ cup raw hazelnuts
Olive oil
Optional soft herbs like parsley, mint, tarragon or chives (a great way to use up any herbs you may have lurking in your fridge)
Roast Squash
Arrange racks in the middle and bottom sections of the oven. Preheat oven to 425 degrees.
Cut squash in half and scoop out the seeds (save for roasting!). Slice squash into one-inch pieces, place on a rimmed baking sheet, drizzle with 1 tbsp olive oil and season with salt and pepper. Roast on top rack 25-30 minutes until caramelized and tender. Flip squash halfway through cook time to ensure even roasting.

Prepare Millet
Meanwhile, add millet to a medium saucepan over medium heat. Toast millet 4-5 minutes until slightly golden and fragrant. Carefully pour in 2 cups of water, 1 tbsp. olive oil and ½ tsp. salt. Stir everything and bring to a boil over high heat. Reduce heat to low, cover and simmer until tender, about 15 minutes. Allow to steam for five minutes with the lid on, then fluff with a fork. Spread on a sheet pan or plate to cool. This last step is optional but prevents the grains from sticking together too much. Adapted from thekitchn.
Toast nuts
Place hazelnuts on a rimmed baking sheet. Roast on bottom oven rack for 7-10 minutes, shaking pan once, until nuts are lightly browned and fragrant. Roughly chop nuts once cool enough to touch. If your nuts still have the papery husks attached, don't worry about removing them. They're perfectly edible.

Make Dressing
Combine orange juice, zest and ½ tsp salt in a small bowl. Slowly whisk in ¼ cup olive oil. Taste dressing and add more salt and a grind of pepper, if you like. Set aside.
Assemble Salad
Tear radicchio into bite-size pieces. Add to a large bowl and drizzle in half the dressing. Gently massage radicchio leaves with your hands. Add squash and 1 cup millet to the bowl, then gently mix to combine ingredients. Taste the salad and add additional dressing, salt, and pepper if needed.
Slice off the stem and navel ends of the second orange to reveal the flesh and create a stable base for cutting. Using a sharp knife, "shave" off the peel, following the shape of the fruit and preserving as much of the flesh as possible. Then slice the flesh into thin rounds.
Top salad with citrus rounds, nuts and optional herbs. Buon appetito!
Finally, a note about leftovers: 
Radicchio's crisp leaves are forgiving, so the wilt factor is minimal compared to more delicate salad veggies once dressed. Store the salad in the fridge and bring to room temp before eating.
Any remaining dressing can be refrigerated for a day or two. Bring to room temp before using.
Leftover millet (or any grains) can be eaten for breakfast, porridge-style, or used as a base for grain bowls. Cooked grains also freeze well for future use.
For more information on the joys of winter vegetables, check out this informative guide from FoodPrint. 
Leslie Engel, MPH, is a Science Writer Consultant for the Global Food Ethics and Policy Program.