Homelessness: The Hidden Nutrition Issue
August 26, 2022
The goal of food system transformation is to build a future where all individuals have access to healthy diets against a backdrop of current challenges such as hunger, poor diet quality, inequity and threats to nature. Charitable food donations serve as the primary food source for people who are experiencing homelessness. They suffer disproportionately high rates of diet-related chronic illness such as hypertension, hypercholesterolemia, and diabetes mellitus but are often poorly diagnosed and treated. Yet, the diets and nutrition of homeless populations receive negligible attention as a public health issue. Social institutions such as shelters and soup kitchens have the opportunities to help affect their health. Since this spring, I have begun a monthly commitment to volunteer at two non-government shelters in Washington DC where there are 6,380 people experiencing homelessness on any given day.
With a very small paid staff, The Father McKenna Center serves hot breakfast and lunch for men experiencing homelessness from Monday to Friday while relying on volunteers to providing such care. Having served hot breakfast to guests on a monthly basis there, I observe that the foods are rich in carbohydrates coupled with animal-source protein, with little addition of fruits or vegetables. It is however worth noting that they serve fresh salads for lunch.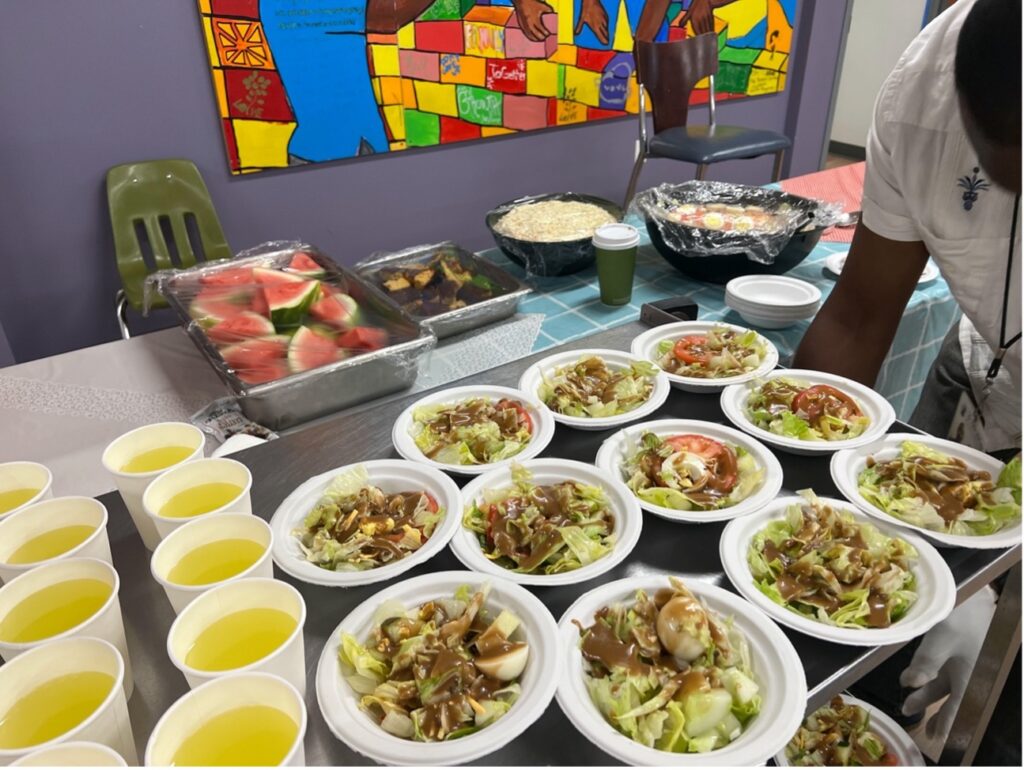 An example of sit-down lunch served at the Father McKenna Center. Source: Father McKenna Centre
At Martha's Table, I volunteer once a month to assist with their mobile food service, McKenna's Wagon, that distributes meals for people experiencing homelessness directly in downtown DC. The typical package consists of hot meals (as of July 2022, it was rice and beef stroganoff), sandwiches with American cheese and ham, and bottled water. It struck me that many people then asked if we had any vegetarian alternative for the beef stroganoff. While the amazing cook at Martha's Table would prepare vegetarian options, the quantity was usually much smaller than the typical hot meals so we could not fulfill the guests' demand for vegetarian meals. This echoes with a 2016 study in DC through a six-month observation at Georgetown Ministry Center shelter that there were increases in consumption when healthier foods were available, in addition to verbal confirmation of interest for healthier options.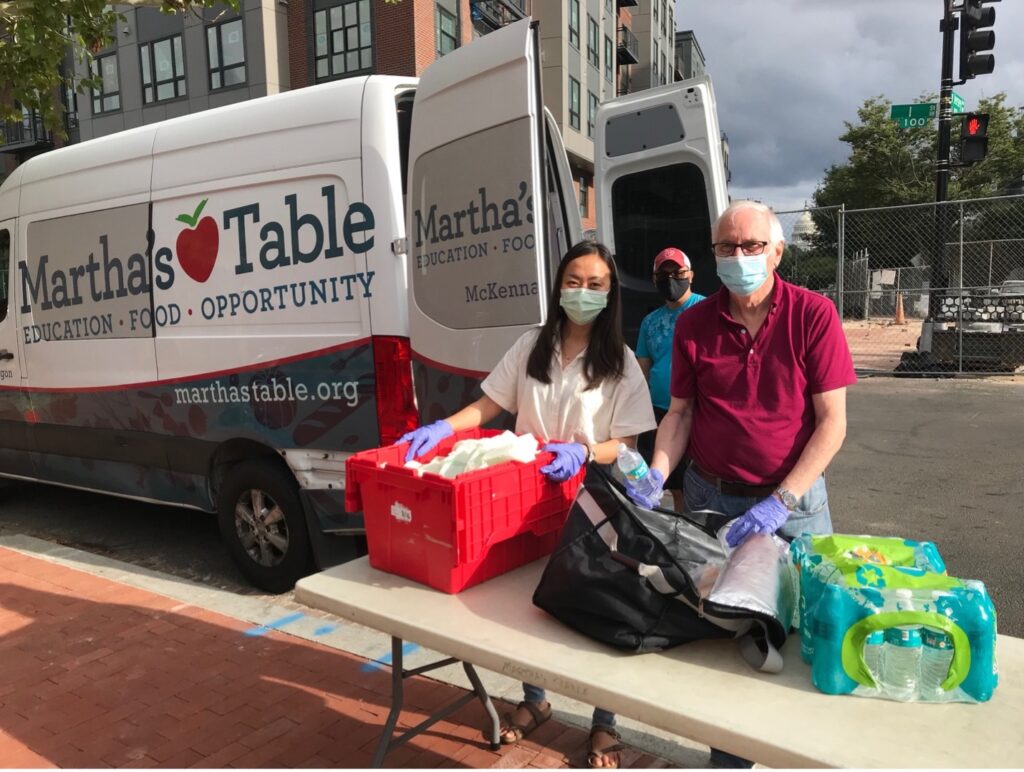 Volunteers for McKenna's Wagon. Source: Author.
So, what can we do about it? First, we need to debunk the common belief that individuals experiencing homelessness have the tendency to desire junk foods. This is a wake-up call for us to tap the potential to impact food access, choice, and quality for homeless populations by donating healthier food products than the common high-starch, high-sugar foods. A 2015 study in ten shelters across Boston finds that two biggest obstacles for shelters to accessing healthy foods were budget and space constraints, but they could still improve food quality even within a budget constraint. Second, nutrition education programs for the cooks, food providers as well as for the guests should be considered to be included in shelters and soup kitchens. Previous research has demonstrated that such nutrition education in shelters was effective and well-received by guests.
 Such concerted efforts to improve the health among people experiencing homelessness would also spill over in other arenas of social life. In today's difficult time where wars and global pandemics co-exist, we need to invigorate civic engagement in our own society to generate trust, reciprocity, and cooperation. This in turn will help reduce cynicism, and develop social capital that is a critical source to help tackle the issues of inequality, alienation, and crime in industrialized democracies.
Deviana W. Dewi, MA, is an International Development PhD student at the JHU School of Advanced International Studies and a GFEPP Research Assistant.