MBE Graduate De Jesus Wins National Award for Leadership in Internal Medicine Bioethics
October 31, 2022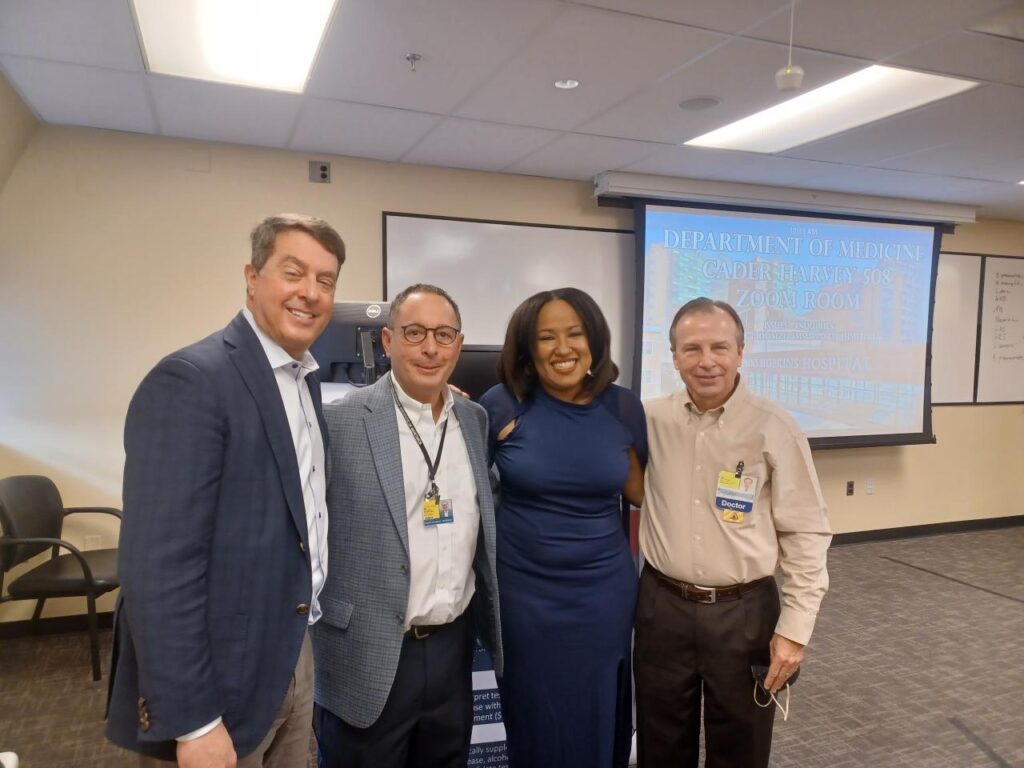 Berman Institute director Jeffrey Kahn, Jeremy Sugarman, Vivian Altiery De Jesus, and Joseph Carrese
Vivian Altiery De Jesus, MD, a graduate of the Berman Institute's Master of Bioethics Program and a second-year internal medicine resident at Johns Hopkins Bayview Medical Center, has been selected by the JHU Division of General Internal Medicine as the recipient of the 2022 national competition for Housestaff GIM Research Award in bioethics for her abstract "Needs Assessment in Bioethics Education in Internal Medicine, Pediatrics, and Combined Medicine-Pediatric Resident Physicians." Berman Institute faculty member Joseph Carrese, MD, served as one of DeJesus's faculty mentors on the project.
The award is named for Berman Institute faculty member Jeremy Sugarman, MD. Six awards are offered, each named for an internationally regarded mentor and researcher at Johns Hopkins with a faculty appointment in the Division of General Internal Medicine.
The awards were established to stimulate interest in academic GIM and recognize outstanding house officers who have the potential to become leaders in GIM-related research. In addition to bioethics, awards are offered in:
Medical education
Addiction research
Clinical care and research in HIV
Health services and outcomes research
Behavioral medicine and health disparities
Awardees presented their winning abstracts during a special GIM grand rounds on Friday, December 16, 2022.
As part of De Jesus's Bioethics Practicum written deliverable — a required course where master students are exposed to bioethics field experience — she wrote The Forgotten Text, twelve chapters of narrative medicine about the formation of a physician from 2015 to 2020. The Forgotten Text explores, under an ethical lens, the encounters and challenges that medical students may face during their education.
Dr. Sugarman is the Harvey M. Meyerhoff Professor of Bioethics and Medicine; Professor of Medicine; Professor of Health Policy and Management; and Deputy Director for Medicine of the Berman Institute of Bioethics at the Johns Hopkins University. Dr. Sugarman is Chair of the Ethics Working Group of the HIV Prevention Trials Network, Co-Lead of the Ethics and Regulatory Core of the NIH Health Care Systems Research Collaboratory and Co-Chair of the Johns Hopkins Institutional Stem Cell Research Oversight Committee. Dr. Sugarman conducts both theoretical and empirical research in bioethics. He is renowned for his work on informed consent, research ethics and the ethical issues associated with emerging technologies.