In light of the recent and rapid developments related to the COVID-19 pandemic, we are postponing the 2nd Annual SNFBA Bioethics Summer Course.  The Stavros Niarchos Foundation has announced that it has canceled the 2020 Summer Nostos Festival and SNF Conference, and we are following their direction.
We are looking into options for possible dates in 2020 and 2021 and will update this webpage once something has been confirmed.
All applications that were received by March 31, 2020 will be held and once a new date has been confirmed, we will re-connect with all applicants regarding their interest in activating their application. Applications for 2020 are now closed.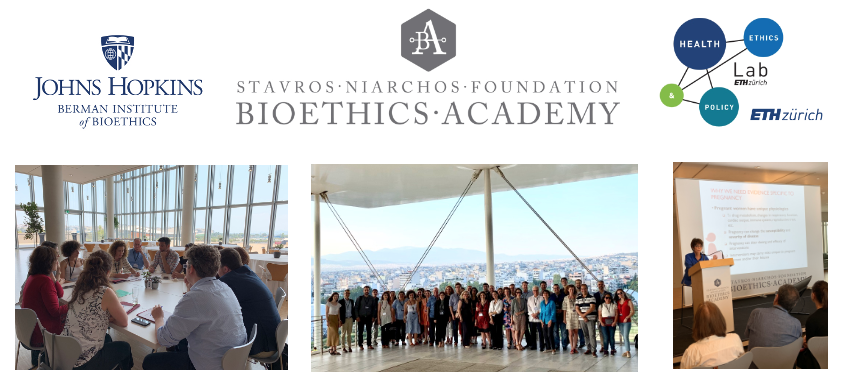 In 2019, the Johns Hopkins Berman Institute of Bioethics (JHU) in conjunction with the Bioethics Chair at the Swiss Federal Institute of Technology (ETH) launched a new initiative called the Stavros Niarchos Foundation Bioethics Academy (SNFBA). The SNFBA is exclusively supported by the Stavros Niarchos Foundation (SNF) and was created with the intent to support and enhance knowledge and awareness for bioethics in Greece.
The three main components of the SNFBA are:
An intensive bioethics summer course offered every June at the Stavros Niarchos Foundation Cultural Center (SNFCC) in Athens, Greece;
Annual in-depth workshops alternating between Zurich, Switzerland (hosted at ETH) and Baltimore, USA (hosted by JHU), beginning winter 2021. These workshops will include faculty from the Summer Course along with additional visiting faculty. Approximately 20 attendees will be invited per workshop, based on their interest in further training and education in bioethics and their aptitude for bioethics. Workshop content will be topical and developed with input from the selected participants. The program will include presentations by all participants, intensive case analysis and consultation (with at least some actual cases provided by participants), train-the-trainer exercises so that participants can return to their institutions/workplaces to help educate their peers, and additional specialized content.
An alumni network created for summer course participants, all of whom will automatically be members.  In addition to providing news, resources and information via a dedicated SNFBA website, email, and social media channels, the network will be a means for staying in touch with other SNFBA alumni in Greece and bioethics faculty at JHU and ETH. The network will host virtual discussions via webinar and convene in-person reunions and events in conjunction with the timing of the annual summer course and SNF Annual International Conference in Athens.