JHU Collaborates with Addis Ababa University to Launch Research Ethics Master's Program
March 9, 2023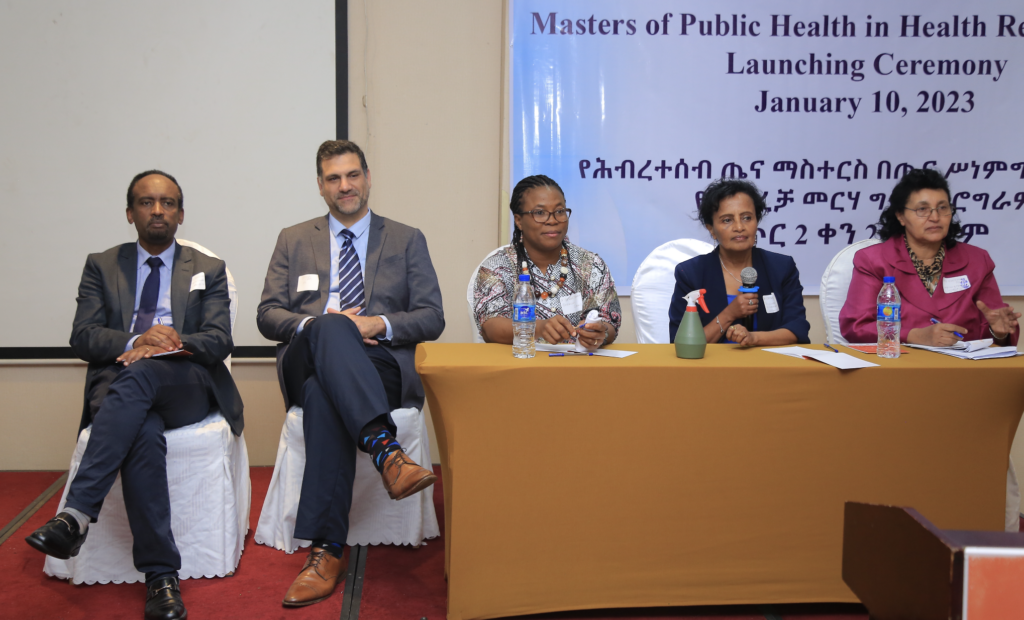 In January 2023, faculty and staff of the Johns Hopkins University-Addis Ababa University Research Ethics Training Program (JHU-AAU RETP) gathered in Addis Ababa, Ethiopia, for a symposium and launch of the Research Ethics Specialty Track within the AAU Master of Public Health (MPH) program.
Over the past three years – with support from the U.S. National Institutes of Health, Fogarty International Center (Grant # R25TW001604) and the leadership of Dr. Adamu Addissie (AAU) – the JHU-AAU RETP has focused its efforts on curriculum development and approvals; strengthening capacity of AAU faculty to teach new courses in bioethics through training and mentorship; raising awareness for bioethics and research ethics through outreach, public seminars and creation of a MPH-wide Responsible Conduct of Research (RCR) course; engaging government leaders in Ethiopia to support ongoing efforts to advance research ethics networks and policies; and piloting of the new MPH Specialty Track.
"We are delighted to have this opportunity to work together to generate the first bioethics-related Master's training program in Ethiopia," said Joseph Ali, faculty of the JHU Berman Institute and Bloomberg School of Public Health and co-director of the JHU-AAU RETP. "The success of the program depends greatly on the vision and support of key leaders at AAU and Nationally, and the dedication of AAU and JHU faculty and staff. We are thankful for the support and commitments."
The official program launch in January celebrated these formative efforts, shared emerging needs and opportunities for bioethics in Ethiopia and the region, and recognized the matriculation of a cohort of nine students into the Master's program.  The event, which was attended by over 60 people, was chaired by Prof. Yeweyenhareg Feleke and included speeches from distinguished guests of the Ethiopian Ministry of Education, AAU administration, and a keynote delivered by Dr. Paulina Tindana (University of Ghana; Accra, Ghana). A panel that included guest speakers Dr. Erisa Mwaka (Makerere University College of Health Sciences; Kampala, Uganda), Dr. Violet Naanyu (Moi University; Eldoret, Kenya), Dr. Yimtubezinash Woldeamanuel (AAU; Addis Ababa, Ethiopia) and Dr. Telahun Teka (National Research Ethics Board; Addis Ababa, Ethiopia) was also organized to share reflections on the future of research ethics in Africa. This was followed by a presentation by Joseph Ali on global efforts to establish mechanisms for benchmarking ethics oversight of health-related research. In the days following, students had the opportunity to begin to share their hopes for their Master's training and receive feedback from the program and invited guests on early thesis research concepts. Information about local and global bioethics networks and resources were also shared.
In addition to the symposium and meetings with students, the team met with AAU program faculty for a curriculum workshop, and hosted a meeting – chaired by Dr. Andrea Ruff (JHU Bloomberg School of Public Health) – which gathered Institutional Review Board (IRB) leaders from across Addis Ababa for a discussion on IRB capacity strengthening and networking.
While the COVID-19 pandemic has challenged international collaborative training programs, through creative adaptations, personal commitments and supportive institutions, the JHU-AAU-RETP has established a foundation for what it hopes will be decades of successful bioethics training to advance high quality research and practice.  On the final evening, while the team gathered for dinner, Dr. Tindana offered the well-known proverb: "If you want to go fast, go alone. If you want to go far, go together."
Events throughout the week were coordinated by Lealem Wagaw (AAU) and Elise Wilson (JHU). For more information about the JHU-AAU RETP, please contact adamuaddissie@gmail.com or jali@jhu.edu.