How Are Teachers Prioritized for COVID-19 Vaccination by the US States?
January 12, 2021
How are Teachers Prioritized for COVID-19 Vaccination by the US States?
Matthew A. Crane, Ruth R. Faden, Megan E. Collins
This post reflects information on vaccination planning collected on January 12, 2021.
As states contend with limited initial supply of COVID-19 vaccines, prioritization decisions are being made about local distribution. Many current prioritization decisions reflect guidance from the National Academies of Sciences, Engineering, and Medicine (NASEM), as well as the Advisory Committee on Immunization Practices (ACIP). However, the states have the authority to allocate vaccine as they see fit. Currently available state planning is highly dynamic, and subject to change.
One priority group for vaccination, teachers, has been the subject of scrutiny in recent weeks, with some education groups advocating that teachers and school staff be moved up in prioritization plans, relative to other groups. Because of this advocacy, and especially ACIP's recent decision to recommend teachers and school staff for Phase 1b of vaccination, states that do not currently include the K-12 workforce in Phase 1 may reconsider their current prioritization.
In order to understand where teachers and school staff stand in current vaccination plans, we conducted an analysis of available COVID-19 vaccination planning from all fifty States and Washington D.C. For this search, we used the most-recent available information from state websites or health agencies about Phase 1 prioritization. Keywords for inclusion included "teachers," "school staff," and "education." For each jurisdiction with available data in planning documents, we collected information about the subphase in which teachers or school staff are listed, as well as the exact language used. Sources included for this analysis are available in the Appendix.
As of January 12, 2021, 37 of 51 jurisdictions include teachers and/or school staff in vaccination planning for Phase 1 vaccination (Table 1). Language varies widely between jurisdictions, with exact language presented in Table 2. Teachers are most commonly prioritized in Phase 1b. Utah was the only state to have an undivided Phase 1 among these 37, and in that state teachers were included along with multiple other groups of high risk and essential workers. These results show an increase from an earlier collection of plans on December 19, 2020, where we found that only 23 of 51 jurisdictions prioritized teachers and/or school staff for Phase 1 vaccination.
Table 1: Phase 1 Prioritization of Teachers and School Staff in the United States (as of 1/12/21)
| | | |
| --- | --- | --- |
| Subphase | # of Jurisdictions | Jurisdictions Prioritizing Teachers for Phase 1 |
| Phase 1 | 1 | UT a |
| Phase 1a | – | No States |
| Phase 1b | 34 | AL, AK, AZ, AR, CA, CO, DE, HI, ID, IL, IA, KS, KY, ME, MD, MI, MS, MO, NE, NV, NM, NY, NC, ND, OH, PA, SC, TN, TX, VT, VA, DC, WA, WY |
| Phase 1c | – | No States |
| Phase 1d | 2 | SD, WV |
a Utah has no Phase 1 subphase listed for teachers
These findings have limitations. They are limited to published prioritization information on government websites (recently updated full state plans, webpages, and phase 1-specific documents). We did not analyze all sources available, such as meeting minutes or recordings of ongoing discussions, or secondary sources such as news coverage. Additionally, state vaccination plans are being updated frequently, and may change in response to additional CDC guidance based on recent ACIP recommendations. Due to these limitations, caution should be exercised in interpreting the prioritization decisions from states which have not updated guidance documents recently. Furthermore, some states have not yet made their guidance on teacher sub-phase explicit. In these instances, our categorizations are based on best estimates of Phase 1 sub-phases from currently available information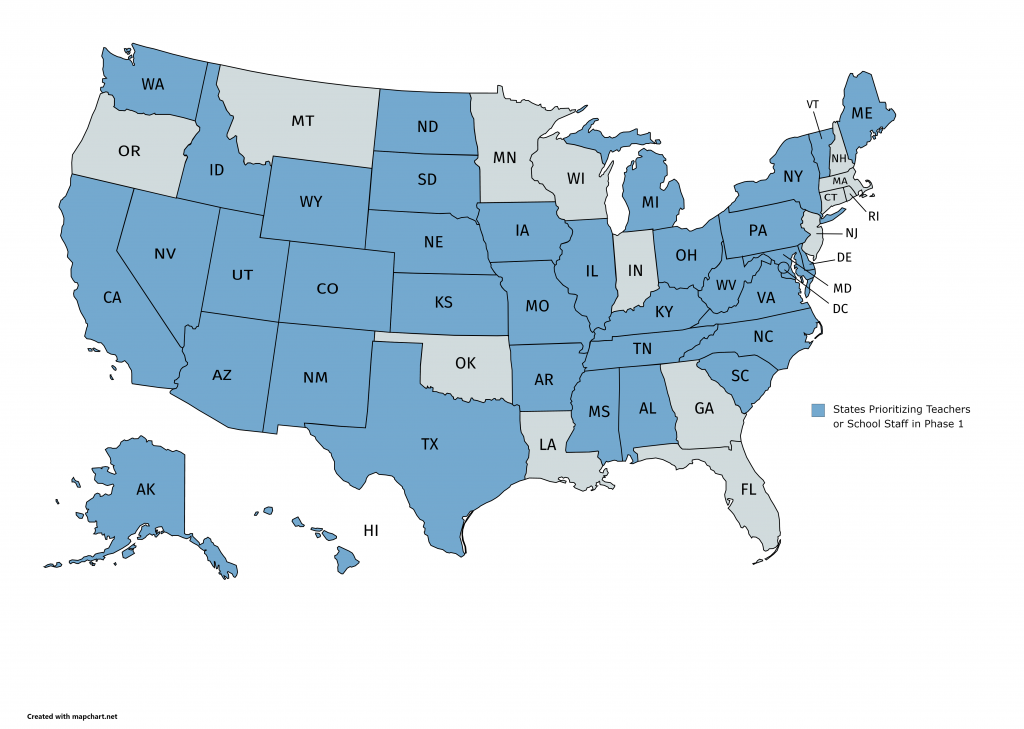 Table 2: Jurisdictions Prioritizing Teachers for Phase 1 Vaccination (as of 1/12/21)
Jurisdiction
Subphase
Language about Teachers
Sources

(version, date last updated if available)

Alabama
1b
"Education sector (teachers, support staff members)"
Vaccination Allocation Plan

(1/11)

Alaska
1b
"Education (Pre K-12 educations and school staff)"
Vaccine Allocation Guidelines

(1/4)

Arizona
1b
"Education (K-12) and childcare workers"
County Health Department Website
Arkansas
1b
"Teachers and school staff"
State Health Department Website
California
1b
"Education"
State Website
Colorado
1b
"Frontline essential workers in Education"
State Website
Delaware
1b
"Education (teachers, support staff, daycare)"
State Vaccination Playbook

(1/7)

Hawaii
1b
"Teachers and childcare and educational support staff (childcare, early education, K-12, post-secondary)"
State Plan Executive Summary
Idaho
1b
"Pre-K-12 school staff and teachers and daycare [childcare] workers"
Advisory Committee Slides

(12/9)

Illinois
1b
"Education (Congregate Child Care, Pre-K through 12th grade): Teachers, Principals, Student Support, Student Aids, Day Care Workers."
State Website
Iowa
1b
"Teachers/school staff"
State Vaccination Strategy

(V2, 12/4)

Kansas
1b
"K-12 and Childcare Workers, including teachers, custodians, drivers and other staff"
Vaccine Prioritization Plan
(1/7)
Kentucky
1b
"K-12 School Personnel"
Vaccine Phases Update

(1/4)

Maine
1b
"Education sector (teachers, and support staff)
State Website

(1/12)

Maryland
1b
"Education, including K-12 teachers, support staff, and daycare providers"
Vaccine Distribution Announcement

(1/8)

Michigan
1b
"School and child care staff"
Prioritization Guidance

(1/6)

Mississippi
1b
"K-12 Teachers/Staff; College/University Teachers/Staff"
State Website
Missouri
1b
"Teachers & Education Staff"
State Website
Nebraska
1b
"Education (teachers, support staff, daycare)"
State Website
Nevada
1b
"Educators in pre-school and K-12 settings, including teachers, aides, special education and special needs teachers, ESOL teachers, and para-educators; workers who provide services necessary to support educators/students, including but not limited to administrators, administrative staff, IT staff, media specialists, librarians, guidance counselors, essential workers in the Nevada Dept. of Education, etc.; workers who support the transportation and operational needs of school settings, including bus drivers, crossing guards, cafeteria staff, cleaning and maintenance staff, and bus depot and maintenance staff."
State Playbook

(V3, 1/11)

New Mexico
1b
"Early education and K-12 educators/staff"
State Website
New York
1b
"P-12 school or school district faculty or staff (includes all teachers, substitute teachers, student teachers, school administrators, paraprofessional staff and support staff including bus drivers)

Contractors working in a P-12 school or school district (including contracted bus drivers)"

State Website
North Carolina
1b
"Education Sector (teachers and support staff members)"
State Website
North Dakota
1b
"Workers employed by preschools or Kindergarten through 12th grade: Teachers, nutritional services, aides, bus drivers, principals, administrative staff, custodians, etc."
State Website
Ohio
1b
"Adults/employees in all schools that want to go back, or to remain, educating in person."
State Website
Pennsylvania
1b
"Education workers"
State Website
South Carolina
1b
"Those who work in the educational sector—teachers, support staff, and daycare workers"
State Website
South Dakota
1d
"Teachers and other school/college staff"
State Website
Tennessee
1b
"Childcare, pre-school, and kindergarten through twelfth grade teacher, school staff, and school bus drivers"
Vaccination Plan
(V3, 12/30)
Texas
1b
"Teachers and school staff who ensure that Texas children can learn in a safe

Environment"

Phase 1B Guidance
Utah
1
"K-12 teachers and school staff"
State Website
Vermont
1b
"Education Sector"
Vaccination Plan

(V2, 12/28)

Virginia
1b
"Childcare/PreK-12 Teachers/Staff"
State Website
Washington D.C.
1b
"School teachers and staff"
Phase 1 Guidance

(12/28)

Washington
1b
"K-12 educators and staff during in-person schooling"
Guidance Summary
(1/7)
West Virginia
1d
"Higher education and K-12 Faculty and Staff"
State Website
Wyoming
1b
"K-12 Education (teachers and support staff)"
Vaccination Priorities

(12/30)
Acknowledgement:
The structure of this analysis was inspired by the work of the Prison Policy Initiative on tracking incarcerated people and corrections staff in vaccination plans.
Appendix: Sources for Information on Prioritization of Teachers and School Staff for Phase 1 of COVID-19 Vaccination