Berman Institute to Update Deering Hall Donor Wall
November 9, 2021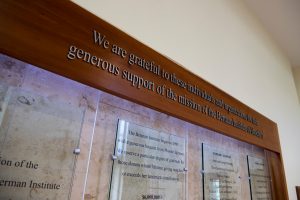 For the first time since the dedication of Deering Hall a decade ago, the Johns Hopkins Berman Institute of Bioethics will update its donor wall to recognize the ongoing generosity of its most dedicated benefactors and honor its more recent supporters. All donors who have made leadership gifts the Berman Institute by the end of the 2021-22 fiscal year on June 30, 2022 will have their name inscribed on our donor display in the lobby of Deering Hall. All donors will be invited to an event in October of 2022, where we will celebrate and thank those who have made our work possible.  The names of those previously listed on the wall will be updated to reflect their lifetime support.
The display will be highlighted by a Founders panel, paying particular tribute to those generous individuals whose lifetime support of the Berman Institute has met or exceeded Phoebe Berman's $6 million gift that founded the Institute. The original donor wall recognized about 25 supporters, all of whom had made at least $100,000 in lifetime gifts to the Berman Institute before the 2011 dedication of Deering Hall. The revised wall will grow substantially, as we plan on recognizing every donor who has given $1,000 or more to the Berman Institute at any point in our first 25 years.
The update takes place as plans proceed for the construction of Henrietta Lacks Hall, which will adjoin Deering Hall and enable the Berman Institute to expand its programmatic offerings, and create new spaces for students and faculty. The revised donor wall will permanently commemorate all whose generosity helped launch and sustain the Institute during its first quarter-century of achievement.
The Berman Institute's Development Office will be contacting all donors individually to confirm the listing of their name and lifetime giving. Anyone with questions is invited to contact Andrew Rentschler at andrew.rentschler@jhu.edu or 443-307-3814.