Berman Featured at "Hopkins on the Hill"
June 13, 2019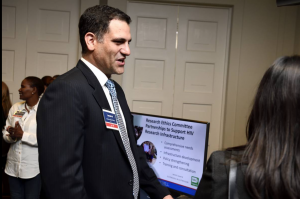 To underscore the role and subsequent results of federally-funded research, Johns Hopkins hosted a showcase of 21 project teams from all corners of the institution, including three Berman Institute faculty, at a special June 12, event in the House of Representatives, called Hopkins on the Hill.
Berman Institute Associate Director for Global Programs Joe Ali was selected to present the Berman Institute's training programs for scholars in sub-Saharan Africa.
"Debates about ethical controversies in global health research are often dominated by voices from the global 'North,'" said Ali. "Federally-funded global bioethics initiatives empower sub-Saharan African researchers and institutions to meaningfully engage in local and international research and deliberations about the ethics of such research."
Ali was joined by Berman Institute associate faculty member Megan Collins, whose presentation was titled "A Vision for Success: How Providing Glasses is Helping Baltimore's Youth."
Also presenting was Carey Business School professor Mario Macis, who recently became an affiliate member of the Berman Institute faculty. Macis presented about "Motivating HIV Testing with Incentives and Behavioral Nudges."
"We are thrilled to highlight these early career researchers whose scientific investigations and innovations represent a fraction of the remarkable, publicly funded research underway at Johns Hopkins," says JHU President Ronald J. Daniels. "Their work is not only advancing scientific understanding, but also creating products and therapies that improve the quality of life in America."
Daniels has long been an advocate for the importance of federal support for research, especially for young researchers. Johns Hopkins has led U.S. universities in research and development spending for 39 consecutive years, putting a record $2.562 billion in FY2017 into projects to cure disease, promote human health, advance technology, and expand knowledge of the universe and ourselves.
"The wide breadth of research at Johns Hopkins, from engineering to the life sciences, from the social sciences to the humanities, continues to be funded at record levels," says Denis Wirtz, the university's vice provost for research. "This support allows the institution to uphold its critical mission of fostering independent and original research, and bringing the benefits of discovery to the world."