Virtual Seminar Series: Kadija Ferryman, PhD – "Race Matters in Health Data"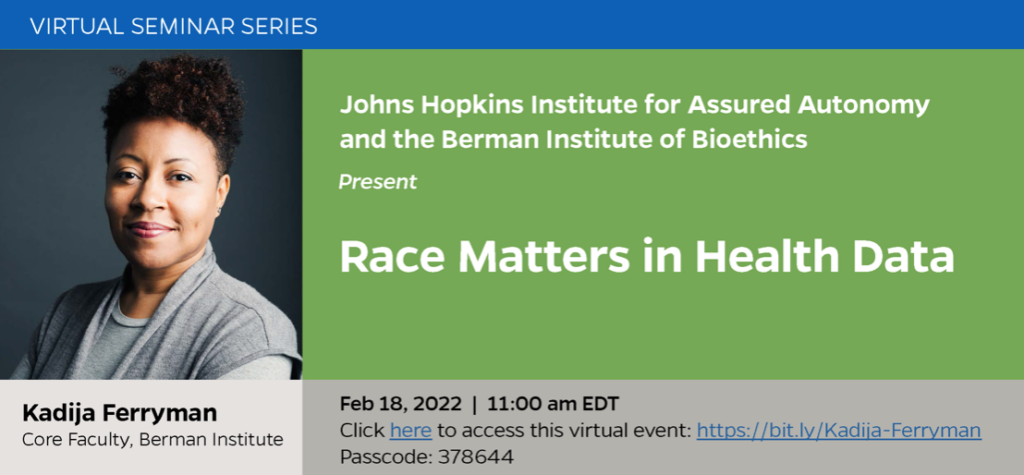 ABSTRACT
In this talk, I will describe how processes of racialization become material, or evident in health data. I will draw on the two meanings of the word matter, as substance and importance, to argue that because race is made material in health data, that it demands attention. The talk concludes with thoughts and provocations on how we can contend with race matters in health data.
BIO
Kadija Ferryman is a cultural anthropologist who studies the ethical, social, and policy dimensions of digital health technologies. Specifically, her research examines how technologies including genomics, electronic medical records, and artificial intelligence impact health injustices, such as racial health disparities. Dr. Ferryman is Core Faculty at the Berman Institute of Bioethics and Assistant Professor in the Department of Health Policy and Management at the Johns Hopkins Bloomberg School of Public Health. Her previous appointment was Industry Assistant Professor at NYU's Tandon School of Engineering, where she redesigned the ethics and technology core course. Before her training as an anthropologist, Ferryman began her professional career over 20 years ago as a policy researcher at the Urban Institute in Washington, DC. She is an affiliate at the Data & Society Research Institute and at the Center for Critical Race and Digital Studies, as well as Nonresident Visiting Scholar at the Urban Institute. She also serves on the institutional review board for the National Institutes of Health's All
of Us Research Program. Dr. Ferryman received her BA in anthropology from Yale University and her PhD in anthropology from the New School for Social Research. She has published research in journals such as Journal of the American Informatics Association, Health Care for the Poor and Underserved, and Genetics in Medicine.
View previous seminars at https://iaa.jhu.edu/events/