Remembering and Honoring the Life of Carlton Haywood, Jr., PhD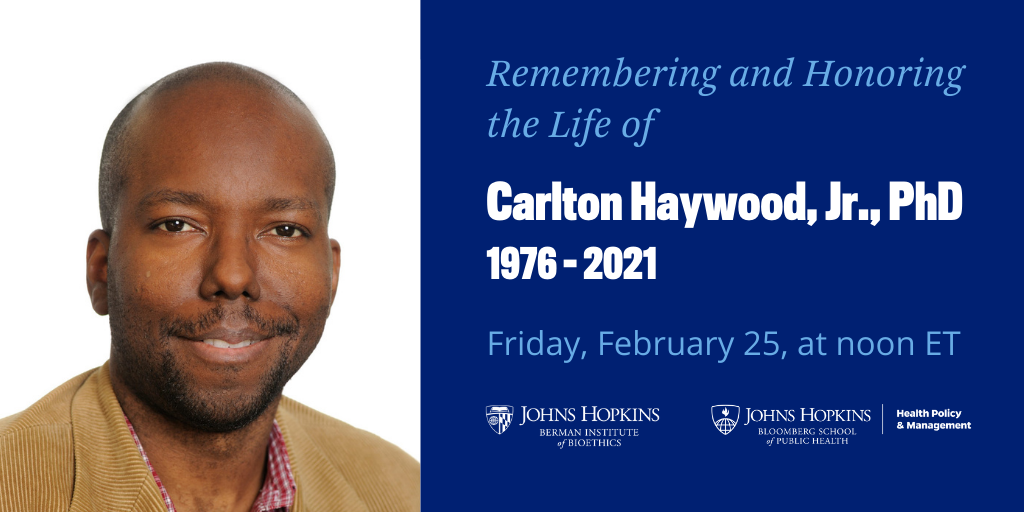 You are invited to join a virtual event to honor and remember our friend and colleague Carlton Haywood, Jr., PhD, on Friday, February 25 from noon-1 p.m. ET.
 
The virtual event will highlight the impact Carlton made throughout his career, including his unique perspective on health equity research, which was informed by his own experiences living with sickle cell disease, and his fervent desire to address the challenges that he and other patients faced.
Read more about Carlton's life and achievements.
 
Berman Institute faculty Mary Catherine Beach, Ruth Faden and Jeffrey Kahn will be among those sharing recollections of working with Carlton over the years. If you would like to record and submit a short, 1-2 minute video remembrance to be used in a memorial video hosted on the event website and shared with Carlton's family, click here for instructions.  
 
Register to attend the virtual event on Zoom and bookmark this webpage for more information about the event, which the Department of Health Policy and Management in the Bloomberg School of Public Health and the Berman Institute are co-hosting.